Our Stylists
Check out our Amazing Stylists!
Johnna Roybal
Johnna Roybal fell in love with hair early on in life. From the age of five, she knew she wanted to become a hair stylist, and at just seven years old she could french braid her own hair! In 1996, when Johnna was sixteen years old, she graduated from Warren Tech.
It's safe to say her drive is her strongest quality. After graduation Johnna began her journey behind the chair with training in Goldwell. Over the years, Johnna grew her business behind the chair, all while being a cosmetology educator as well as a platform artist for Goldwell for ten years. From there she transitioned through a few salons downtown before she and her husband created the very well known lounge/salon hybrid, The Retro Room.
In Johnna's 20+ years in the industry, she continues her Barber license, along with abundant Kevin Murphy and Alfaparf education. She also has certifications in hair extensions, including Hair Dreams Nano Technology and Hair Talk. Johnna has many specialties including color, extensions, updos, and short edgy haircuts. Johnna excels in visualizing and recreating inspiration photos for her guests.
Johnna hand picked Kevin Murphy products for her salon and has many favorites including easy rider, anti-gravity, and smooth again.
Join Johnna at the Retro Room andtry her favorite cocktail, Pineapple Jalapeño Margarita.
Kelsey Chestnut lives her life by the famous quote by Henry David Thoreau, "Go confidently in the direction of your dream. Live the life you imagined". Ever since she can remember, Kelsey loved doing hair and makeup. A Colorado native, Kelsey grew up in Thornton with her hairstylist mom, who has been a stylist for over 30 years. Kelsey envied the lifestyle and knew even before graduating high school that she was going to cosmetology school. Kelsey graduated from The Academy of Cosmetology Arts and received her license in 2015. She is certified in Hair Dreams Nano Extensions and specializes in men'shaircutting, as well as blonding and coloring. Kelsey also loves blowouts, as she says, "it is the last stop to show off a new style." If Kelsey had to pick, her favorite Kevin Murphy product would be Bedroom Hair, which she uses on almost every guest who sits in herchair.

Outside of the salon, Kelsey stays busy attending CU Denver, double majoring in
Finance and Risk Management. In her free time, Kelsey enjoys hiking, skiing, walking
her dog and spending time with family. She also likes to cook!

Join Kelsey at The Retro Room and try her favorite cocktail, Pineapple infused vodka
and club soda, "simple and delish!"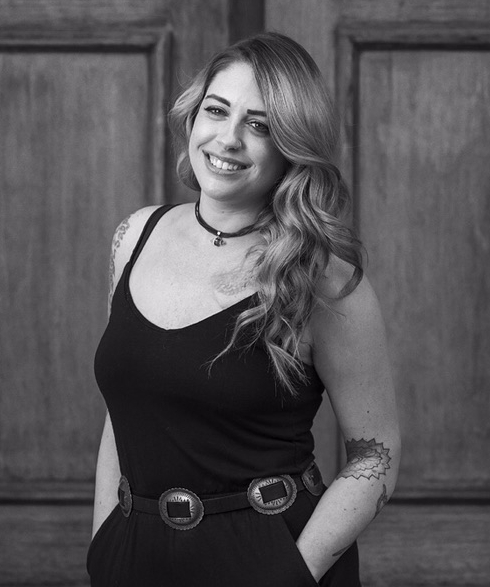 Danielle Kozloff wasn't always a hair nerd. Danielle attended the University of Central Florida for journalism and after graduation ended up working an office job which she quickly found wasn't for her. Her love of makeup led Danielle to cosmetology school where she discovered a deep passion for hair.
Danielle graduated from the Aveda Institute in St. Petersburg, Florida in 2009. After licensure, Danielle attended a two-week intensive apprenticeship before working behind the chair. In 2012, Danielle moved to New York City where she began working as a hairstylist in Manhattan. While working behind the chair at a salon in Soho, Danielle also worked on-location for music videos. Danielle also became certified in tape-in hair extensions and found a new path as an extension specialist.
Danielle moved to Denver in 2014 and has been a Denver stylist ever since. She has taken numerous advanced education classes including balayage and men's fading, as well as assisting on fashion shows including the red ball.
Danielle loves dimensional color, especially hand painting techniques such as balayage, but when asked she'll tell you her passion for hair extensions is unparalleled.
Danielle joined The Retro Room in 2017. Her favorite Kevin Murphy product is the
shimmer spray. Not only does it smell amazing and adds shine to the hair (with either gold or lavender flecks), it is also a treatment that repairs hair to its natural shine.
Join Danielle at the retro room and try her favorite cocktail, strawberry infused vodka press.
James Tylor grew up engulfed in the beauty industry, as his mom was a hairstylist. After high school, his mom took him to his first hair show; he fell in love with the energy and excitement and the rest is history.
James is our curly hair specialist. He understands the struggles of a good curly haired haircut (he has curly hair himself). He is thorough and passionate, not only with curly hair, but all haircutting in general. James graduated from Paul Mitchell The School Denver in 2013. While in school, James participated in his first hair show. Since then he has been lead stylist for many hair and fashion shows, including The Red Ball and Historias. Following graduation, James joined an Aveda salon where he completed an additional 9 months of advanced education. He is also certified in tape-in hair extensions.
When he's not at work, James enjoys painting and drawing. He has even had a paintingon display at The Ellen Noel Art Museum in Odessa, Texas.
James joined our salon family in November of 2017. When asked what his favorite Kevin Murphy product is, James admits it's a tie between Easy Rider and Hair Resort, "They both add piece-able texture without weighing the hair down."
Join James at the Retro Room and try his favorite cocktail, Cherry infused bourbon with coke.